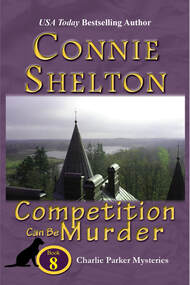 One of the joys of writing a mystery series like my Charlie Parker books is that I get to choose a variety of locations for Charlie and Drake to go. His business as a helicopter pilot works well all over the world. As a beginning writer, I was told 'write what you know' and that's exactly what I did. My husband had a long career as a helicopter pilot and I've borrowed greatly from his experiences in aviation for the situations Drake and Charlie encounter.

One of the most fun books for me to write was Competition Can Be Murder because not only did I use their helicopter experiences as a basis for the plot, I was fortunate to take a trip to Scotland and I merged many of the beautiful locations we visited with Charlie's excitement of piloting a helicopter over the North Sea.

We toured several castles—Charlie and Drake get to live on the grounds of one such elegant estate and become friends with the castle's owners. We drove the length of Loch Ness—yep, they did it too. We spent a little time in Inverness, which came in handy for several of the story locations. And those adorable Border Collies? I loved our visit to a trainer who gave a fantastic demonstration of his dogs at work herding sheep—loved it so much I had to include the dogs in my story.

Did I also fly over the North Sea and experience adventures mirroring the ones Charlie has? Well, not really. There has to be some fiction mixed in, or it's not a novel. One day, perhaps, I'll compile all my travels into a memoir—for now, it's one adventure at a time, with a mystery or two per book. Thank you for letting me take you along as I create these stories for your entertainment.