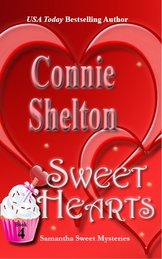 A Valentine's Day wedding … What could be more romantic? I thought so, Sam thought so, her daughter Kelly really thought so as she pushed for the event to happen. But we writers can't be quite that nice to our characters. I mean, seriously … should they always get their way? Should all their dreams come true?

I started writing Sweet Hearts with every intention of creating a dream wedding day. But if there's one thing that would make a story entirely boring, it's a plot that reads something like: A man and woman yearn to get married. So they do. The end.

Nah … I just had to be a big meanie and throw in a few obstacles along the way. Let's just say that all's fair in the writer's game of love, and I couldn't resist the temptation to mess with all my characters a little. The perfect dress, the most fantastic cake ever, the dream venue, and all the guests getting along in perfect harmony? Um … maybe not.

Does the wedding take place by the end of the book? If you've read it already, you know the answer. If not … well … I won't spoil it here for those who haven't read it yet. You'll find out when you read Sweet Hearts.

What are your thoughts on a Valentine wedding? Did you have one yourself? Let me know!